Along with board games and Sega console, trading card games were the things that kept much of my childhood busy. I still play board games occasionally, and except that the Sega was replaced by the PC, there's not much difference in that area. With Trading Card Games there's another story. As less and less people are playing it (at least where I live), I've been looking for years for an online game that could satisfy my need for "battles". I wonder if Ederon is the one to do it.
The first thing I noticed was that the game didn't get any updates since the end of July, which is a bit concerning. As the game is developed by an independent company, the risk of the whole project closing down due to lack of financing is quite high. But Ederon is still up and running and that's all that matters.
Unlike your usual TCG, in Ederon you don't command hordes of creatures but a hero, much like in classic RPGs. There are 8 classes: Hunter, Assassin, Knight, Gladiator, Paladin, Monk, Sorcerer and Wizard each with its own spells, weapons, strategies and weaknesses. All starter decks have two classes included with additional cards that allow you to switch between them as necessary.
Of course, as the games go on and you get more cards the combinations are limitless. There are cards that require a certain class, two or even none at all. Although the combination of classes sure looks interesting, I prefer using only one both for simplicity and efficiency.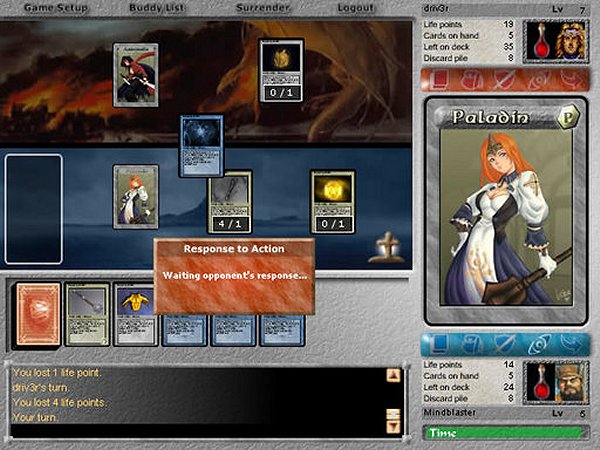 As I have said before, there are no creatures for you to command. Instead, your hero gets weapons to attack with, armor for defense and, of course, various spells that either damage the enemy directly or enhance your weapons and armors. There are lots of cards to collect, if you are into it or just want to get the best out of your deck. They can either be bought or won after matches. Obviously the game is turn-based. Each turn has a series of steps for drawing a card, equipping, attacking and casting spells. The rules are simple and unless the other player forgets to play a card, everything goes pretty smooth. Unfortunately, the player base is not too big, so finding an opponent using the auto-match system may take a while.
This is a browser game after all, so you may not have high expectations from graphics. Well… you are wrong! Although simple, the game board has fine details and the 3D design makes it look like you're really there playing.
I kept the item shop deal at the end and for good reason. Unfortunately, it was built in such a way that if you want to play more than a few games, you really have to pay. As I told you, after each game you get money and with change, a card. But in order to get these abilities you have to buy these items from the item shop. Also, if you want to trade, there's an item there you have to buy. Fortunately, it only cost me 2$ and I still got plenty of gold to spare. Even so, it's not nice! Besides these, you can find your usual decks and booster packs and some other items that I did not bother to look at.
Despite the bad impression made by the item shop policy, Ederon is without any doubt the best online TCG I have ever played. There are plenty of cards to chose from, lots of strategies to test and yet it has simple rules that anyone can learn. And it looks pretty. Considering that most games of its kind either have a subscription or offer cards only on sale, I may consider those 2$ worth spending. If you ever searched for a really good TCG and you couldn't find it, this is all that you have been looking for!
by Sicaru Adrian