Outer Galaxies is a new browser-based free MMORPG developed by CORE Engineering, a young (or so it seemed from their photos) German team who is also behind Dogs of the Seas, a somewhat famous pirate simulator. Unlike many other browser games, this one isn't about your medieval city, your galactic empire or a fantastic hero, but about your very own spacecraft. You can fly it anywhere and do whatever you want in a quite big sandbox-style universe. Sounds fun, right? Well… we shall see.
Upon creating your account, you get the chance to choose a faction. Though their description was rather shallow, the names said it all: Andromeda Federation and Centauri Empire, one the defendant, the other the aggressor, classic choices, nothing fancy, nothing revolutionary. I selected the Centauri Empire (what can I say, I have a weakness for the dark side) and went on to chose one of the few available avatars. Now I was all done and ready for action.
I was placed inside what seemed to be a space station with a long menu on the left. After realizing that pressing random buttons was not going to help, I found something called "Video tutorial" and thought I was going to be saved, but what I found was half a dozen of clips showing some basics, so fast that I had to pause them to be able to understand anything. Aside from this, no game mechanics, no introduction, nothing. Luckily, the community was very helpful so I managed to understand some of the things I had to know in order to survive. Actually, there's no one to help you during the game. You have to learn everything by yourself, mine your own resources, even build your own items with the aid of blueprints as there's no NPC seller. And if you want to sell anything, you have to use the incorporated market where your items can be bought by other players. Basically every aspect of the game is dependent on the players. This sounds good, but at least in the beginning, there should be some helpful NPCs as this extreme sandbox may scare beginners.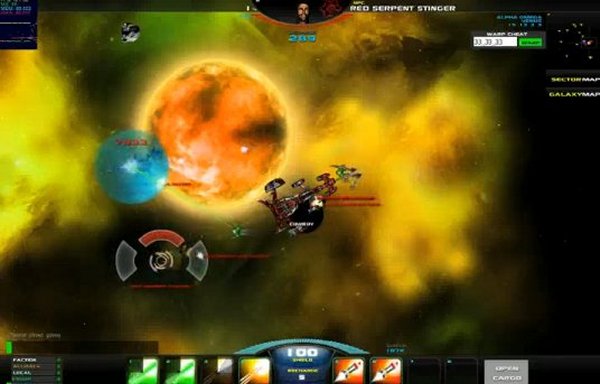 Getting out into free space, I was a bit disappointed by the graphics. All you get is a static background with some planets and stars and 2D animated objects for anything else. The sound is also dull, with just one effect for every sound and blasts. Some background music would have been nice and also some noise for the engines. The universe is made of five galaxies from which only three are accessible, each with about two dozens of systems. Every system is a 5×5 squares grid, each grid being a separate instance. You might think "Wow, that's a lot!" Well, not quite. Just move from one system to another and you'll see what I mean. Everything looks the same, even the mobs, most times just changed in color. In a short while, everything gets boring. Even more, the movement system makes you feel you're just playing another fantasy game; basic point and click for movement and number keys for each type of attack. The game producers didn't use the advantage of the space setting at all…
Luckily, there are other things to keep you busy. Besides hunting mob ships you can mine for minerals, join alliances, produce items and selling and buying items on the market. One important thing that was missing during my review was PVP although there were some areas designated for it, so it probably is going to be implemented later. The item shop was surprising, as it is very basic… It only contains a special type of ammo for each kind of weapon and more, you just pay them with money, no need to buy coins or other stuff.
Being still in beta, the game has many deficiencies and unfinished parts. It also has some interesting features, like the sandbox world and the player-driven market. There is place for improvement and if everything goes well with the faults sort out, this game has the potential of becoming a great success.
by Sicaru Adrian