Just as Counter-Strike, a simple half-Life mod managed to start the team-based shooter hysteria, so did DotA (Defence of the Ancients), not even a mod but a custom map of Warcraft 3 for the arena-based PvP online games. Well, I think it actually invented the genre. Each time someone has an original and successful, idea, there are always others who use the same recipe, hoping for the same results. That seems to be the case too (at least at first) with games such as League of Legends and this, Bloodline Champions, Funcom's first attempt at the free MMO games market.
As in DotA (I will mention it a lot), you have a variety of heroes to choose from. They are divided into 4 categories depending on their roles in battle: healer, ranged damage, melee damage and tank. In the beginning, only one character is available in each class, but as you progress, more become available. At the moment there is a total of 21 available, each with its own set of abilities, with more yet to come.
Although DotA set a certain standard, it has now become quite old, so just copying it may not be the wisest idea. Fortunately, Funcom realized that, so, though the gameplay is somewhat the same, it has made a step forward. First of all, the movement is not click-based anymore. Now the character is more easily controlled with the WASD keys, the mouse being used to set the direction of the attack, and the attack itself. Even the selection has been eliminated, so an attack doesn't necessarily mean a hit, as the enemy may simply dodge, especially in the case of ranged ones. This makes the game more action oriented and based on the player's skill rather than the hero's one.
Each hero, no matter what class, has 6 basic skills and one more powerful attack that can be used only when an energy bar has been fully charged. Pretty simple. The game modes are quite basic also: Arena – classic round-based gameplay; Capture the Artifact – the name says it all; and Conquest – the most interesting, players try to take hold of all the objectives.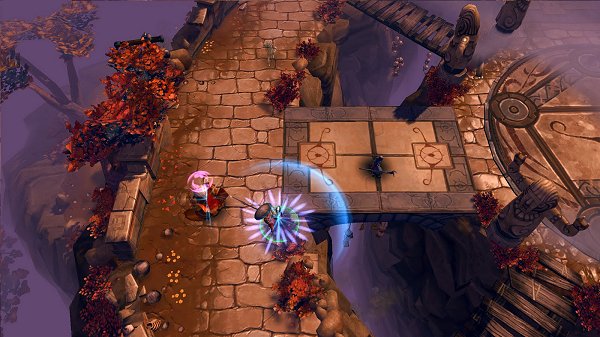 Nothing about this game is too complicated. Even so, the developers tried to make beginners' life as easy as possible so they also included one of the best tutorials I have ever seen lately. Basically, all aspects of the game are explained to you both audio and visual, so in the end, even the worst gamer can get the hang of it. And if this was not enough, you can also play training games with computer-controlled enemies, which are useful when getting accustomed to new heroes or testing different tactics.
Bloodline's graphics remind me of Torchlight (of which a free-to-play version is in development) and, even if it has a cartoonish look, it looks "serious" enough to appeal to the more mature of gamers. The landscape is wonderful, creating a great "fairytale" feeling, and yet not too complex, so as not to distract the players. Graphics-wise, everything is perfectly balanced.
As you already know, no free MMO is actually free. The developers unfortunately have to make a living also. So, two premium packages are available: Champion and Titan edition, both giving the player more advantages. With the Titan priced at 89.99 Euros though, the price tag seems a little too high. Fortunately, none of these affect gameplay. They either make your progress faster and easier or allow for hero customization. Nice touch for keeping the balance.
I believe Bloodline Champions will be a total success for Funcom. The experience of the developers on the MMO market is clearly visible in the quality of this game. They didn't stop at simply copying an already existing recipe, but they improved on it. It is so easy to start playing that anyone can do it, yet allows for core gameplay if you give it enough time. So, whether you are a casual gamer or MMOs are your life, playing Bloodline Champions at least once is a must.
by Sicaru Adrian