What probably started as a joke quickly blew up to unexpected proportions. Can You Pet the Dog? (CYPTD) is a Twitter account created by Tristan Cooper where the shares tales of videogame dogs who are pettable. Sometimes the account also covers other types of animals, as the aim is to give credit to programmers and designers who have spent hours working on something that many players are going to ignore, willingly or not. Cities in Genshin Impact have their share of canine and feline friends who love nothing more than to frolic around. Besides looking cute and fluffy, can you pet the dog and cat in Genshin Impact?
Genshin Impact: Can You Pet the Dogs and Cats?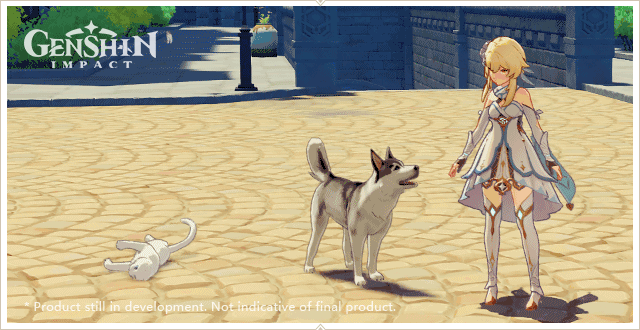 Apparently, the idea of petting dogs and cats in Genshin Impact is one that the community is interested in. The feature wasn't implemented during the closed beta tests and we aren't yet able to absolutely guarantee that it will. However, miHoYo is clearly looking into it, as this statement says:
"The devs are planning it out. Quite right, because Paimon wants to stroke those cute doggies and kitties too."
The question that remains is if this feature is going to be available at launch or further down the road. Genshin Impact is guaranteed to receive many updates during 2021 and beyond, including new cities and characters, so other features are likely to be added as well.
Take a look at the image above. That is just a small glimpse at the cuteness that the cats and dogs in Genshin Impact lend to the world of Teyvat. With so much to see and do, it's always great to have a moment of respite to cuddle the friendly animals. Besides, it makes for a nice change from hunting all those wild boars and such for cooking purposes.
Genshin Impact is an open world anime action RPG with an optional cooperative mode and cross-platform support. It is in development for PC, PS4, Switch, Android, and iOS by Honkai Impact 3rd makers miHoYo. The release date is set for late 2020.
More Genshin Impact Guides:
If you click on a link and sign up for a game we may receive a small commission. Read our affiliate policy.